Corporate Wellness
Group Classes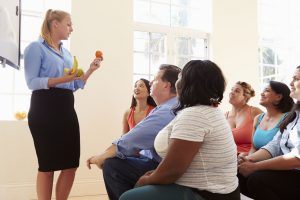 We offer group classes centered on healthy food options our clients can learn to prepare at home, as well as educational classes focused on making healthy diet choices when healthy options don't always seem available.
Examples of group Classes offered by Nutrition Plus include but not limited to:
Fat does not make you fat
Fiber – how to get it and how much to have
FAD Diets
Carbs: The Good, the Bad, and the Ugly
Eating on a Budget
We also offer Lunch and Learns to help educate employees on the importance of healthy eating habits. We can customize topics based on needs
One-on-One In House Counseling
We schedule one-on-one meetings in our office or on-site for those individuals seeking nutrition analysis and healthy eating options. Our trained dietitians will review your current eating habits, the importance of keeping a food diary, while outlining healthier food options for your consideration.
The goal of one-on-one counseling is to educate first, and answer questions so that healthier eating routines can be established.
ServSafe®
ServSafe® training classes are available on-site or off-site.
Employee Wellness
Call to discuss your tailored needs.